Monday, June 15
As shops open and facemasks become compulsory on public transport today, and lockdown restrictions continue to be eased, the World Health Organisation's Dr Hans Kluge, the WHO's director for Europe, cautioned that the UK remained in a "very active phase of the pandemic".
WHO warns UK against further easing of lockdown until the government's contact-tracking system has proven to be "robust and effective Guardian
Endoscopy warning:
trusts will struggle to get back to anything like pre-Covid levels of endoscopy services and will need to prioritize which patients are diagnosed. Most hospitals have not done any non-emergency procedures since the middle of March because they are aerosol-generating — meaning a greater Covid infection risk and need for major protective equipment HSJ
Excluding foreign care workers and lower-paid NHS staff from a fee-free NHS visa extension scheme is unfair and fails to recognize their contribution to the fight against Covid-19, an influential group of MPs has said.
In a report, the cross-party home affairs select committee said some of the lowest-paid workers in healthcare were facing charges of thousands of pounds to stay in the country…
The Royal College of Nursing
During the pandemic, the Royal College of Nursing expects that all health and care employers should comply with their duty of care to their workers in full by:
Carrying out comprehensive and continuous equality analysis including impact assessments on staffing issues relating to COVID-19, including reviewing the allocation of shifts, and access to PPE and to fit testing for BAME workers.
Updating their risk assessment processes to include ethnicity in their vulnerable and at-risk groups. Managers should be encouraged to have supportive and confidential conversations with BAME staff about any underlying health conditions.
Ensuring that all staff are aware of the support and counselling services that available to them to maintain and promote wellbeing.
Ensuring that, where available, staff are able to self-refer to occupational health service for advice and support.
Ensuring that staff know how to raise concerns about their safety including completion of incident forms, are not subject to detriment for raising concerns and that concerns are acted on.
Including BAME staff in the priority list for testing during the first five days of symptoms.
Confirming that staff will receive full pay during any COVID-19 related absences, including periods when individuals are self-isolating, shielding off sick for COVID-19 related reasons.
Ensure that all BAME staff who may need to use a FFP3 mask are supported to be FIT-tested as soon as possible and given the training and information to ensure safe donning and doffing of protective equipment.
Ensure that you comply with the working time regulations and ensure that staff have adequate rest breaks during and between shifts.
Ensure that they have the correct processes in place to maintain an accurate register of staff deaths.
The downward trend in daily deaths continues
The new coronavirus, which causes the disease Covid-19, was first confirmed in the UK at the end of January, but the number of daily confirmed cases and related deaths only began to increase significantly by the second half of March.
The UK has the highest official death toll in Europe and the third highest in the world, after the US and Brazil. However, the government and many experts say it is too soon to make international comparisons.
Wednesday 17th June
The UK death total of Covid-19 patients was 42,153. Most deaths (90%) were in England.
Figures for Scotland, Wales & Norther Ireland are included in the total.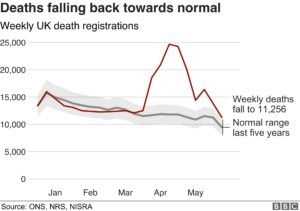 THE FUTURE
The NHS will have to learn to live with coronavirus Nigel Edwards (Health policy researcher and Chief Executive at Nuffield Trust) writes: Searching questions will need to be asked about the UK's overall Covid-19 response, in particular around testing, supply of protective equipment, care home policies and the large numbers of excess deaths. But there can be no doubt that the rapid changes made by the NHS to increase the supply of intensive care beds and capacity were impressive. Now policy attention is turning to how the NHS can restart some more routine activities, with hospitals beginning to resume elective surgery and cancer treatments.
Nursing education:
We have seen the rapid development of online learning. Universities deliver courses on-line; tutorials, seminars and exams are delivered online too. There is good acceptance and students receive thorough preparation for undertaking their practical experience on placements. This is delivered in tandem by the university and the mentors on wards/departments. Safety for the patients and students is paramount.
A recruitment drive to bring final year nursing students and ex-nurses into the NHS to help tackle the coronavirus outbreak was made possible with new emergency legislation to allow the Nursing & Midwifery Council to set up an emergency Covid-19 register. This gives temporary registration to a willing and eligible final year nursing students and nurses who have left practice in the past three years. All those who joined the temporary register are being paid but there was no guarantee about the duration of the contract.
(adapted from NMC News and Stephanie Jones-Berry – @NurseNews Steph.27.03.20).
Jacqueline FILKINS Prof.
Hon. President ENDA