Florence Nightingale-Pioneering Modern Nursing
Ms. Iris Meyenburg-Altwarg, Nursing Director, Medizinische Hochschule Hannover, Germany
As we continue to celebrate ''International Nurses Day'', the year 2020 is very special being the bi-centenary birthday of our beloved first lady of nurse, Florence Nightingale, also known as the Lady with the Lamps. Through her selfless devotion and sheer determination, Florence Nightingale transformed the profession of nurses forever. She gave dignity and honor to nursing and revolutionized hospital conditions, making them more organized.
Born in 1820, she was very passionate in supporting people to improve their health care and dedicated her life as a nurse. She believed that God wanted her to be a nurse serving a divine purpose. Determined to pursue her life's goal to improve health care for people in poverty, she enrolled as a nursing student at the Lutheran Hospital of Pastor Fliedner in Kaiserwerth, Germany.
Florence Nightingale's extraordinary work in Turkey during the Crimean war defined the goal of nursing is to put the patient in the best possible condition in order for nature to act. Nightingale observed that 10 times more soldiers died of the so-called filth diseases and found a correlation between the patients who died and their environmental conditions. As a result of her observations, the Environment Theory of nursing was born which basically a patient-care theory is focusing on the alteration of the patient's environment in order to affect change in his or her health. Caring for the patient is of more importance rather than the nursing process. Nightingale's theory has changed the face of nursing practice and its principles are timeless.
According to Nightingale, Nursing is an Art, whereas medicine is a Science. If you want to know what is really going on with a patient, make sure you ask his or her nurse first. Florence Nightingale was convinced that all nurses be specifically educated and trained for their positions to improve overall care of patients. As a facelift to nursing, Nightingale founded the first school for nurses which marked the beginning of professional education in the nursing field. Florence Nightingale wrote a book about caring for the sick called Notes on Nursing shed a far better light on the nursing profession. She was awarded the Royal Red Cross and the Order of Merit, being the first woman to receive this award.
One of the strategies used during Nightingale's time was quarantine to keep the MDR/XDR Tb disease away from non-infected areas. Perhaps, Florence Nightingale's principles on hygiene underpin modern-day medicine and are relevant in the fight against today's coronavirus epidemic. No matter how much the health care and modern technologies are developed, Florence Nightingale's emphasis on basic amenities like Sanitation, Good hygiene, Fresh Air, Daily exercise, Nutritious food are remaining as challenges still today. In her book, ''Notes on Nursing'' which she wrote in 1860, she did mention that:
Every nurse ought to be careful to wash her hands very frequently during the day. If her face, too, so much the better.
Also, the ten major concepts of Florence Nightingale's Environment Theory also identified as Nightingale's Canons depicts the following: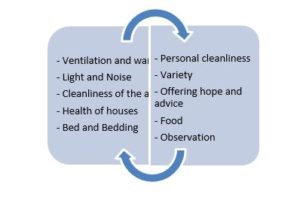 It is always certain that nursing allows nature to influence health and appropriate nursing care can be achieved through alteration of the environment. Changes in internal and external environmental factors help to attain a desired health status. The influence of the Florence Nightingale's environmental theory serves as a foundation for modern nursing practice. The continued application of Florence Nightingale's Environmental theory seems to be vital in providing optimal patient outcomes through altering the patient's environment. The attributes of Nightingale's theory continue to have merit in current day's practice, even after 200 years of her birth.
Let us join all together to recall and re- emphasize the concepts unveiled by our beloved lady into our heath care settings and day-today life for a secured future living.

Stay Safe and Healthy!
Wise and humane management of the patient is the best safeguard against infection
Florence Nightingale
References
https://www.artfund.org/get-involved/art-happens/help-us-shine-a-light-on-florence-nightingale